Nanotrac Flex In-situ Particle Size Analyzer
In-situ particle size analyzer delivers fast and accurate analysis capability.
Powered by Microtrac's enhanced Dynamic Light Scattering technology, the Nanotrac Flex is ideal for measuring particles across wide concentration ranges using minimal sample volume. Named appropriately, the external probe provides users with the flexibility to measure sub nanometer to several micron particle suspensions in-situ or on a lab bench.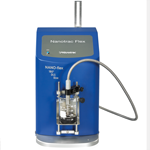 What sets the Nanotrac Flex apart from other DLS systems is the unique probe technology, which turns any vessel into a sample cell. The probe also utilizes an enhanced optical signal, which yields fast, accurate, and sensitive particle size measurements of materials ranging from ppm to near finished product.
Download the datasheet of the Nanotrac Flex.