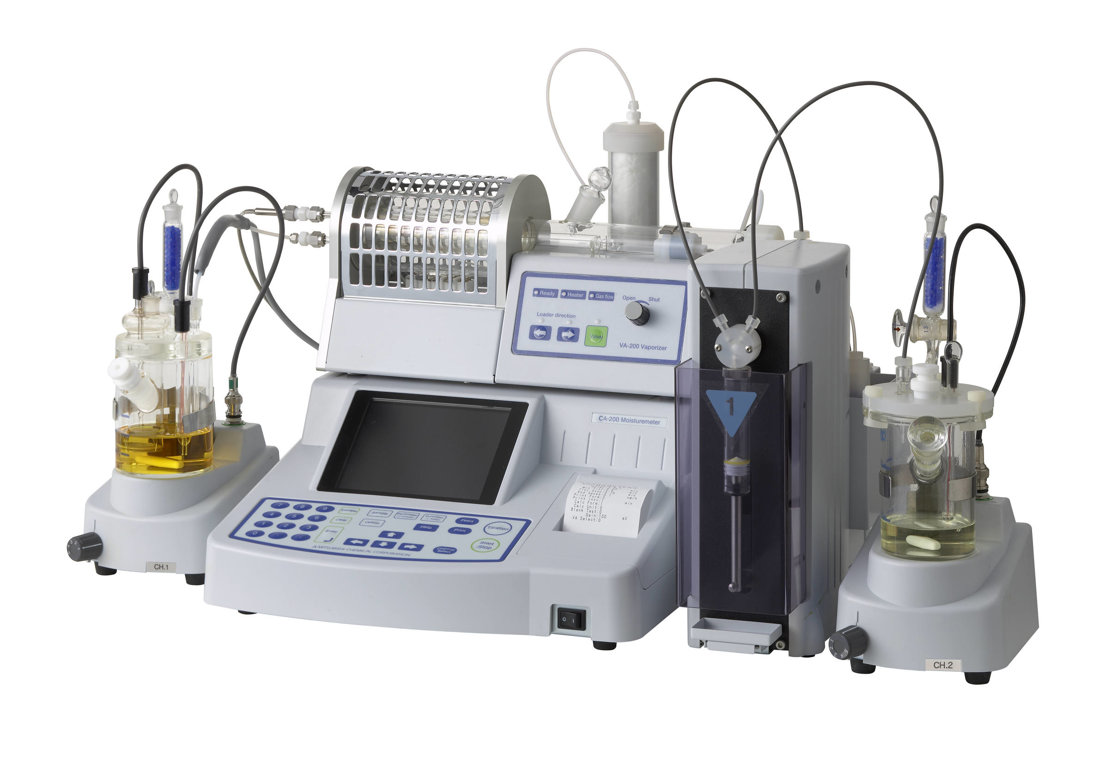 The Dual Channel Karl Fischer moisture measurement system has further evolved with the new LCD Display. Save bench space with dual channel simultaneous measurement and simultaneous display. Simply add a titration unit to the basic CA/KF-200 to complete a dual channel system. The 5.7-inch color LCD monitor shows the status of both channels at the same time.
The Dual Channel system enables not only dual coulo-metric systems, but also coulometric-volumetric, volumetric-volumetric or coulometric general titration (GT-option).
The CA-200 Karl-Fisher-Titrator provides a flexible and highly accurate solution for moisture measurement in complience with international standards. Its modular design with two seperate channels supports simultaneous coulometric and volumetric Karl Fischer titration as well as many other volumetric titration applications. A variaty of vaporizers allow indirect measurement of solid, liquid, oil and gaseous samples. Full automation is available for both liquid and solid samples, LPGs can be measured with multiple replicates.
Main features are:
dual channel simultaneous measurement (patent pending)
multi language user interface
additional volumetric titrations (e.g. bromine Index / Number)
electrode conditioning (patent pending)
data access and instrument control via PC software (CFR Part 11 compliant)
sample introduction modules for any kind of sample
unique application development including choice of reagents (in cooperation with Mitsubishi's own reagent brand by API Corp. )